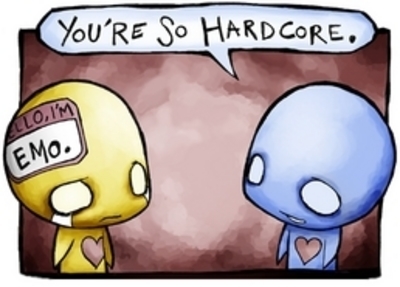 I heard a story on WBRU while driving home at lunch yesterday to meet the plumber (aka. Dad) about our stopped up kitchen sink.
Need a definition of EMO? Click
HERE
In reality all you need to know is that it sucks and all the 'kids' that particpate in the EMO lifestyle are nothing more than whiny spoiled brats who feel the need to cry about how mommy and daddy took the Lexus away.
Here's a link:
News Story
I can't help but laugh about it. I've been telling Shawn how much I hate EMO for years. Its just cry baby music. We're HUGE music fans (just check out the $3k stereo stystem and thousands of CDs in our living room) and you will not find ONE EMO album in our 'collection'... despite Shawn saying he likes some of it.
Jimmy Eat World
... aka.. Jimmy Eat $h!t - I will actually turn OFF the radio if they come on. No lie, ask Shawn.
Fall Out Boy
... have you heard their latest single? "This Ain't a Scene, It's an Arms Race" ? Close your eyes while listening to it... now picture the backstreet boys on stage singing and dancing to it. Uncanny resemblance huh? Point proven... they suck.
My Chemical Romance
, the black parade gets so much play on the radio. I listen to it and the begining is actually interesting about a parade and dad taking him to a parade, the drum work is actually pretty cool, I remember thinking, wow, this could change my mind about EMO (yes, it was a fleeting thought) ... and then it brakes off on some EMO $h!t about a girl (as usual) and I'm left saying "WTF?? WHERE DOES A BLACK PARADE FIT IN HERE? How the heck does dad/parade/girl mix??" and then their crying begins. If I hear it one more time I'm taking the radio out of my car... seriously.
It makes my skin crawl. I just want to scream "SHUT THE F*&$ UP YOU WHINY BRAT!", I'm not sure why this reaction is illicited, but its a really strong emotion for me - I just can't stand it.
I agree 110% with this guys rant. If I was more eloquent I would have wrote it myself:
Great EMO SUCKS! rant
I think I'll nominate him for a pulitizer prize...